Classes offered on Sunday at 9:30am & 11am are:

Jesus Wants to be My Friend Forever
first look | Crawlers ( 3 months - 12 months)
first look | toddlers ( 1 - 3 years)
We provide a space for parents of young children, or children who'd rather stay with parents. This space is designed with those kids in mind to have a safe environment to nurse or for kids just to be able to be noisy, while giving parents access to our live stream.
Provides learning blocks that can help children discover early just how much God loves them. Our nursery gives children the opportunity to grow in a loving, caring, and safe environment. Guides children into a safe, creative place that instills biblical concepts through age specific teaching.

first look | preschool (3-4 years)

first look | k-1 (Kindergarten-1st Grade)
Gives our preschoolers some tender loving care every Sunday morning! Our first look kids love the hands-on curriculum, songs, games, crafts, and the friends they make.
Teaches children that God has a great plan! He wants them to have a full, abundant life! In first look, they will learn what God has in store for them through creative curriculum and age specific praise and worship.
I Need to Make Wise Choices
I Can Trust God No Matter What
I Should Treat Others the Way I Want to be Treated

252 Kids (2nd Grade - 5th Grade)
Your child will never be bored at 252 Kids! After praise and worship, they will enjoy learning character-building traits built around three basic truths every child should embrace according to what Jesus modeled in Luke 2:52. This is an interactive class filled with small group time and fun teaching by our Kid Central staff.
To ensure their safety, each child will receive a name tag while their parents will receive a matching pick-up tag. The child's name tag includes their name, primary contact, and any allergies they might have. At the end of service, the parent picking up their child should present the pick-up tag to volunteer working at the Kids Central desk.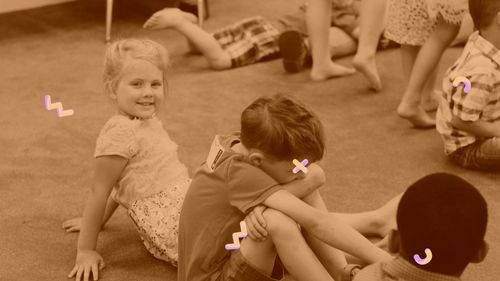 You Can Impact a Child's Life
We believe in the power of parents and leaders partnering together to make a greater impact on our kids. We want to give you the opportunity to serve in the area that you can make the biggest impact, message us today to get started!
First Look Service (3yrs - 1st Grade)
252 Kids Service (2nd - 5th Grade)
We'd love to hear from you. Fill out the form below to get started.